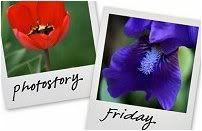 Hosted by Cecily and MamaGeek
I have just signed up for photostory friday and I may being doing this all wrong! Time will tell!
I thought I had to take the photo on friday, so hampered by lots of rain but inspired my David
AUTHOR BLOG's
PSF post. I took Pippa out for her eveing walk with camera.
We strolled down the lane, just across from our home. The lane runs beside the River Eden and so l just started clicking ... trying to not think but click, 'outside the box' !
The rain had recently ceased and the clouds parted to bring out the sunlight.
I love the pattern of tree bark, pink, purple, grey, blue, green ...


Sunlight twinkles through the canopy ...
The River Eden, brooding sky ...
The thing of it is, I am usually looking down at my feet, (I am pretty clumsy!) or looking ahead watching Pippa, but TODAY I was really looking. I noticed through the lens a flapping flag. Puzzled I looked again and I realised it was the
English Heritage flag on top of Carlisle Castle
. I was thrilled l had noticed this little gem, that I otherwise wouldn't have noticed. We live less than a mile away, but there is a river and a park and trees that separate us. So I
knew
it was there, but not in our line of vision.